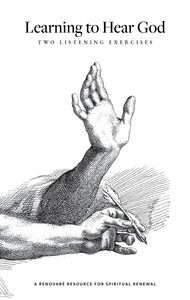 The more time we spend listening to God's voice, the more familiar the Voice becomes. In this booklet are two exercises—from Trevor Hudson and Brian Morykon—to help you learn by experience to recognize the voice of God and enjoy the "divine companionship for which our souls are made." The booklet opens with an excerpt from Dallas Willard's Hearing God.
Softcover, 26-pages.
Order 5 or more for 20% off. (5 for $32)
Order 10 or more for 30% off (10 for $56)

Discounts will appear in cart.