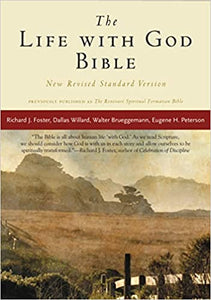 Rediscover Scripture as living text and learn to live a "with-God life"
The NRSV Life with God Bible combines the depth of a study Bible with the warmth of a devotional Bible, offering a new way to discover the full riches of the Scriptures. According to Richard Foster, bestselling author (Celebration of Discipline) and the project's editor, the Bible is all about human life "with God." As we read Scripture, we should consider how God is with us in each story and allow ourselves to be spiritually transformed. Many people are looking for a new way to read the Bible, not as a text to be mastered. but as a story to enter into and a lifestyle to pursue.
This unique Bible, spearheaded by Foster and author Dallas Willard (The Divine Conspiracy), introduces the concept of life with God - or the "with-God life" - a model for seeing the whole of Scripture as the unfolding story of God's plan for our loving relationship with the Creator. This central theme weaves throughout the essays, introductions, notes, and exercises, powerfully revealing how God is present to his people today and throughout history.
Yet our relationship with God should not be passive. Concrete practices - Spiritual Disciplines - have been used throughout church history to guide disciples of Jesus. The NRSV Life with God Bible integrates the Spiritual Disciplines into the Christian life by showing how they are central to the Bible's teachings and stories. Abraham and Ruth, Moses and Deborah, Jesus and the disciples all provide amazing examples of the life-changing power of prayer, worship, fasting, celebration, and many other Spiritual Disciplines. Scripture thus becomes a primary means for the discovery, instruction, and practice of these disciplines as well as a tool for spiritual formation. Combining the highest possible biblical scholarship with the deepest possible heart devotion, this NRSV Bible seeks to nourish inner transformation by unlocking and revealing the profound resources within Scripture for changing our hearts and characters and bringing them in line with what God wants for our lives. 
Features:
Complete text of the New Revised Standard Version (Protestant canon), vetted by an ecumenical pool of Christian academics and renowned for its beautiful balance of scholarship and readability

Apocryphal and Deuterocanonical books placed between the Old Testament and New Testament

Previously published as 

The Renovaré Spiritual Formation Bible

Insightful introductions for each book of the Bible

Thousands of notes highlight main themes for the "with-God life"

Spiritual exercises - challenging and relevant exercises to deepen a reader's encounter with God

Topical index - a glossary of Bible references designed to help with further study 

15 Progressive essays on living the "with-God life"

Over 60 profiles of key biblical characters

16 Pages of maps

Concordance - an index to help locate familiar words phrases, and verses in the Bible

Double-column format

Compact edition is ideal for carrying to work, school or travel

6.8-point type size <-- This is very small font!
This item is non-returnable. Ships only to Canada and U.S.