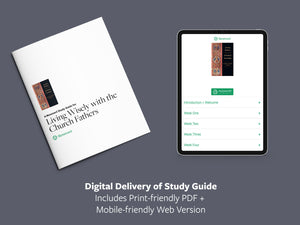 Interactive Study Guides from Renovaré are a great way to take yourself or your group through a soul-shaping book like Living Wisely with the Church Fathers.
This digital study guide provides...
A Simple Plan for Intentional Reading
The weekly schedule, questions, and checklist provide a plan for thoughtfully engaging the book.


Ways to Dive Deeper
Each guide includes exclusive essays and in-depth audio interviews—usually from the book's author—and thoughtful bonus resources.


Easy Share-ability
Purchase a group license and simply share a link. No accounts required.
Access it anywhere or print it out...
Includes an easy on the eyes (and ink cartridge!) PDF


Also includes an interactive web version—with bonuses like interviews with the author—that you can access on a phone, tablet, or computer
This is a digitally delivered study guide. Book not included. After ordering, you will receive instructions by email on how to access.