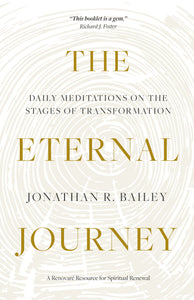 A Renovaré Resource for Spiritual Renewal.
Explore the classical stages of Christian transformation in 30 short meditations.
Jon Bailey has taken the ancient Christian understanding of the Threefold Way (purgation, illumination, and union) and breathed new life into this time-honored path toward the transformation of the human personality. —Richard Foster
20% discount on 5 or more copies.
This item is non-returnable.
For international orders, please call 303-745-1223 and choose option 4.